McDonald's Canada brings back McLobster
The brand plans to capitalize on its niche product through a local, nostalgia-heavy campaign.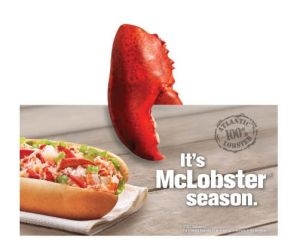 Eastern Canada in the summer: sun, sand and the return of the McLobster.
McDonald's has brought the sandwich back to the Atlantic provinces with an expanded campaign, with media from OMD and creative from Cossette East, the agency's Halifax office.
This year's campaign will feature online and digitals ads, a social media campaign, product giveaways and a vacation contest, as well as in-store promotion. There is also the addition of television spots, a tactic which the company hasn't used in over four years in the McLobster campaigns, Meagan Austin, McDonald's Atlantic regional marketing supervisor tells MiC.
The commercials will include a "cute twist" on the lobster bibs you receive at more upscale seafood restaurants, with a voice-over that highlights the local aspect of the sandwich, says Austin.
McDonald's hopes the campaign will instill the fact that all lobster meat used in the sandwiches is caught locally by New Brunswick fishermen, and also stir up a feeling of summer nostalgia for the product.
'Local is such a key message, and I think the nostalgic summertime [feeling] goes along well with that, and really resonates with customers.'
The sandwich itself was launched well over ten years ago, and has garnered buzz worldwide: 'It's become one of those mythical McDonald's products,' says Austin, 'like the Big Kahuna Burger from Hawaii.'