MMVAs boost branded content
This Sunday's show features the most sponsors ever for the awards, including Coca-Cola, H&M and RIM.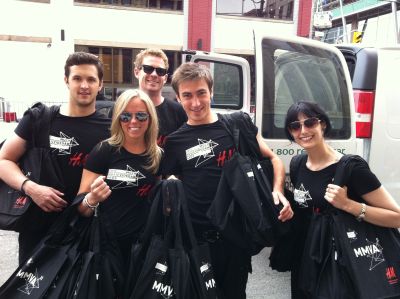 It's Queen St. West's loudest party and this year Dave Caporicci, director of brand partnerships, Bell Media Much MTV Group tells MiC the Much Music Video Awards (MMVAs) will feature five co-branded partnerships, the most ever for the program.
"With the MMVAs, we believe commercial time is still content time," he says. "Branded content is a way to integrate advertising into the show."
Coca-Cola Canada's Covers program, where contestants send in their take on well-known songs, is culminating at the MMVAs with the first award for Best Cover. Response to the campaign, which was launched in February has been better than expected, says Caporicci.
"It has been amazing," he says. "Over 2,000 participants have registered their videos. There have been two million page views to the site throughout the program."
Get a Load of Milk (Dairy Farmers of Canada) is getting involved by sponsoring the first official MMVA party outside of Toronto for one contest-winning viewer. Bell Media's CP24 news truck will be live on the scene feeding content back to Toronto to stream during the show, says Caporicci.
"The sponsorship was a way to bring the MMVAs, which are known as being Toronto-centric outside of the city," he says. "It is a co-branded program to build awareness of milk with teens."
H&M is stepping in as the official fashion authority for the awards program, sponsoring a blogger contest on the MuchMusic site and designing the wristbands for pass holders to the event.
Knowing youth don't just watch on one screen, RIM has sponsored the first MMVA co-viewing app, says Caporicci.
"The app will be a curated collection of conversations," he says. "We know the viewers are watching the MMVAs with their mobile devices in their hands and we know the audience are BlackBerry fans."
For those who can't make it the day of the awards, Virgin Mobile Canada is sponsoring the MMVAs Soundcheck this Saturday. It is also running a contest for one of its Virgin Mobile Canada members to live vlog the day's events and run that content on the MuchMusic site.
The 2011 MMVAs run this Sunday, June 19 at 9 p.m. on MuchMusic.