2012 CASSIES announce call for submissions
The awards show based on proven business effectiveness is back with a streamlined online entry process.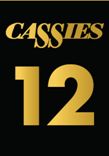 The CASSIES, the only advertising awards show based on proven business effectiveness has announced the call for entries for its 2012 edition.
A new logo and streamlined online entry process headline the 2012 awards, which will be presented Monday, January 23, to mark the beginning of Advertising Week – the Institute of Communication Agencies' week-long event.
The 2012 CASSIES judging committee is headed by David Gibb, VP and managing director, JWT. The list also includes: Kelly Murumets, president and CEO, ParticipACTION; Glenn Hollis, vice president, Tim Hortons; Carl Pichette, marketing director, Boston Pizza; Valérie Sapin, vice president, marketing, Gaz Métro; Florence Girod, vice president, strategic planner, Le Monde de Cossette; Marc Gagnier, vice president, brand strategy and integration, Palm + Havas; Karen Howe, senior vice president, creative director, Due North Communications; Bruce Neve, CEO, Starcom MediaVest Group; Sonny Wong, president and creative director, Hamakazi Wong Marketing Group; Harold Simpkins, senior lecturer, academic director, Marketing Co-Op Program, John Molson School of Business, Concordia; Ted Boyd, CEO and partner, 58Ninety; and Michael Allen, managing partner, 180 Los Angeles (180LA).
Entries for the 2012 CASSIES are due online at Cassies.ca by Thursday, July 21, 2011. For more information and to enter, visit Cassies.ca.