Torstar gets foxy
The media co targets the average wine drinker with Winefox.ca.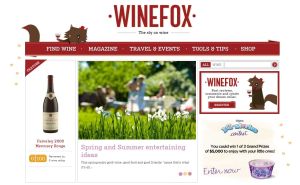 Torstar has launched Winefox.ca, a new online magazine geared towards the average wine drinker.
Winefox general manager Dean Ostilly tells MiC the magazine was created  with Toroto-based digital agency Dashboard Communications to broaden Torstar readership and fill a hole in the market for wine opinion, review and instructional material.
"Other wine media out there today doesn't talk to the everyday person, it can be a bit pretentious," says Ostilly, "but Winefox is for people who are interested in wine, but aren't experts."
Along with ad space on the homepage, there are opportunities for wine and wine accessory producers to get involved with relevant advertorial content, says Ostilly.
Winefox also features an on-site boutique, where it sells wine accessories and wine getaway products and opportunities. Currently partnered with the site is accessory-maker Epivac, and travel companies Butterfield and Robinson and Samba Days, among others.
Features on the site include instructional videos, an events calendar and a virtual "wine cellar" that readers can sign up for to create their dream cellar, or merely to remember what brands they've enjoyed in the past.