Virgin Mobile Canada partners with MuchMusic
The music and mobile brands launch a new retail store with a supporting print, OOH and in-store campaign.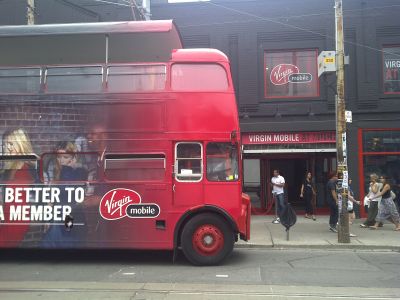 "There are very few brands that we can say we are groupies of…but one of them is MuchMusic."
This is the reason the brands decided to join forces in the launch of a retail store that neighbours the MuchMusic studios on trendy Queen Street in Toronto, Andrew Bridge, brand and communications director, Virgin Mobile Canada, tells MiC
Adding that the brands have "similar DNA, attitudes and personalities in the way that they come to life," Bridge says that Virgin looks to hit a "youthful, urban and music loving" audience, similar to that of MuchMusic.
With creative developed by Toronto-based Juniper Park and the media buy handled in-house, the retail store launch was promoted with inserts in Metro and The Grid, and will continue to be supported with a billboard at the Queen and Duncan intersection, social media outreach and promotional activity in-store, says Bridge.
"We now have a space for the brand in the city," adds Bridge." We sponsor Yonge-Dundas Square for events and we hold one-off promotions, but now we have our own physical space that we can program throughout the summer."
Virgin Mobile partnered with the Bell Media-owned channel at yesterday's 2011 MMVAs and provided a winning consumer with a unique opportunity to go behind the scenes of the awards show soundcheck. Bridge says that the brands will collaborate more in the future to provide consumers with experiences in the store.
"Thousands of folks come to Toronto and one of the things that they want to see is the MuchMusic studio, but very few of them get to physically come in," says Bridge. "We wanted to provide them with an area that every single fan can go into and get a real music experience and memento of their trip."
The 1,300-square-foot store location is home to music memorabilia, such as autographed books and TV show scripts, and MuchMusic branded t-shirts as well as mobile phones and devices from Virgin for consumers to purchase.