MMVAs break records on MuchMusic
The 2011 edition of the screaming-teen fan fest is the most watched broadcast in MuchMusic history.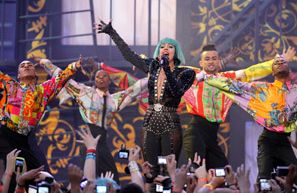 More than 10,000 fans filled the streets of Toronto for the star-studded 2011 MuchMusic Video Awards on Sunday, which became the most watched broadcast in MuchMusic history.
According to BBM Canada overnight data, over a million viewers tuned in from 9 to 11 p.m., a 10% increase from last year's total viewers, making it the most-watched non-news program on Canadian TV. Additionally, the event saw a 67% spike in the 18-to-34 demo and an 11% increase in viewers aged 12 to 34.
Sunday's broadcast of the MMVAs was the top program on Canadian specialty TV among key demos 12 to 17 (144,000), 12 to 34 (478,000), 18 to 34 (334,000) and 18 to 49 (580,000).
Over 600,000 viewers watched the preceding MMVAs Red Carpet Special on MuchMusic, E! and CP24, a 19% bump up from last year. (Data also overnight from BBM Canada.)
Online, MuchMusic.com saw 375,000 unique visitors (according to Omniture) on June 19, giving the site its biggest single-day audience ever, with a 125% increase over last year's awards show.
From Playback Daily