Newfoundland & Labrador make time fly
The province's tourism co takes advantage of the area's quirky time zone with a Facebook sweepstakes created in partnership with WestJet.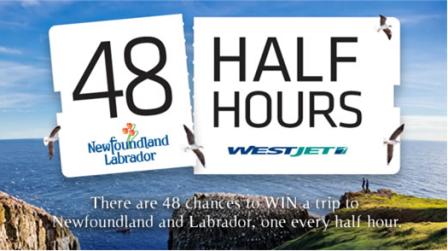 Newfoundland & Labrador Tourism will be giving Canadians 48 shots at winning 48 round-trip plane tickets in a span of 48 half hours starting June 22 at 10:30 a.m. (NDT that is.)
The campaign, which builds on the tourism board's "Find Yourself" TV campaign is aimed at the increasingly social media savvy target baby-boomer market, Jenny Smith, creative group head, Target tells MiC.
"We are hoping that Newfoundlanders will become ambassadors for this contest and jump on board, encouraging people to enter the contest and travel here," says Smith.
WestJet was brought on board as the prizing sponsor for the online contest created by St. John's-based agency Target, which participants can enter as many times as they wish, using the Newfoundland & Labrador Facebook page. Contest winners will be awarded plane tickets every half hour.
The tourism company believes that most travelers will research and make plans online, which makes the use of Facebook a perfect platform for the campaign, she adds.