Combat Hospital rallies troops, ahem, viewers
The Canada-UK coproduction's Tuesday premiere wins the night.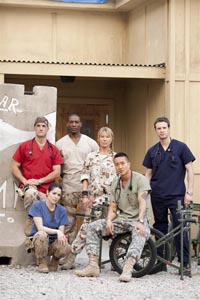 Hopes at Global TV were high for its new drama, Combat Hospital, and with its debut Tuesday night, the series looks to be off to a strong start.
The military medical drama drew two million viewers (2+) for its premiere, according to overnight data from BBM Canada, winning the night nationally. According to the network, the ratings earn Combat Hospital the #2 position for "second highest-rated premiere of any Canadian drama" in the last 10 years.
The show's main-network competition in the 10 p.m. slot included The Voice on CTV (9 p.m. to 11 p.m.) and Harry's Law on Citytv at 10 p.m. In #2 overall for the night was Citytv's America's Got Talent, which earned 1.5 million viewers (2+).
Combat Hospital follows a team of doctors providing advanced surgical care in the only medical facility to do so in Southern Afghanistan.
From Playback Daily