Teletoon Retro wants you to choose
The nostalgic cartoon channel targets all members of the family by asking for votes on their favourite character.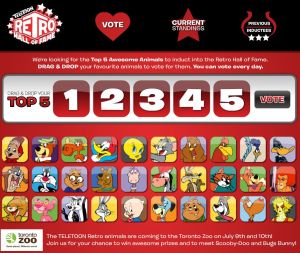 Teletoon is targeting the young and the young at heart by giving cartoon fans the opportunity to have their say as to which "Top 5 Awesome Animals" they believe should be inducted into the Retro Hall of Fame as well as slotted into Sunday afternoon programming.
From Yogi Bear to Bugs Bunny, viewers can vote for their most loved cartoon animal on the Teletoon Retro website until Aug. 1. The chosen Top 5 will be announced Aug. 5 and then showcased in the following Sunday Retro Rewind afternoon slot on Aug. 7.
"This is just a more creative way to showcase our programs and also allows us to engage and interact with our viewers," Vanessa Porter, brand manager, Teletoon Retro, tells MiC. "Our viewers are always telling us what their favourite programs are and who their favourite Teletoon characters are. So when they are voting for their characters online, it lets them feel like they're actually choosing the programming by us slotting them into that Retro Rewind block, satisfying that craving or want."
With media and creative all completed in-house, the campaign will be using Astral radio stations, such as Virgin 99.9, to create awareness with promotional spots. Advertisements have also been placed in the Metro newspaper in Calgary and Vancouver as well on the Teletoon network and websites, says Porter.
"We definitely see that Teletoon is viewed as a family-programming destination, but we also have shows that target that adult-skewing audience on their own," says Porter.
In support of the "Top 5 Awesome Animals" campaign and to generate hype, the channel will hold two family-fun events at the Granby Zoo in Quebec from July 1 to 3 as well as at the Toronto Zoo from July 9 to 10.