Spotted! Garnier gets clean and green in TO
The L'Oreal-owned brand left a green footprint in Toronto this week to promote its line of Pure Clean hair and beauty products.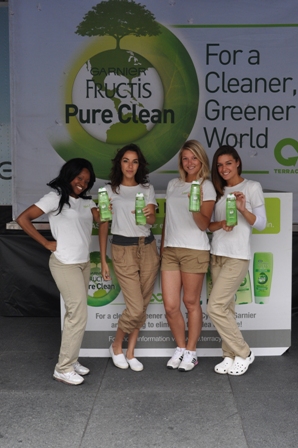 Ever thought of turning a grubby shampoo bottle into a duffel bag or even a kite? It's called upcycling and it's the reason Garnier's eco-friendly tour bus is in town.
Toronto marks the L'Oreal-owned brand's first and only Canadian city stop. It was tactically set up to educate consumers about its new Canadian partnership with green and upcycling company Terracycle, as well as Garnier's new line of Pure Clean hair and beauty products.
Brand ambassadors spoke with consumers while giving them a tour of the brand's eco-friendly tour bus, where digital screens and recycled paper pamphlets aided in educating them about the partnership and product. Through the supporting promotion of the Garnier tour, consumers were also invited to bring in used haircare and beauty bottles, which were collected in a large upcycling bin on-site.
The set-up was also a part of the brand's green approach to promoting the campaign, with media planning by ZenithOptimedia and creative by Publicis in Montreal. All OOH advertisements were displayed on LED screens around the city and recyclable pamphlets were placed inside beauty magazines, such as Best Health. Additional elements include TV and ads on the Garnier site driving consumers to the Terracycle web page, where they could register and send their beauty waste to be upcycled, Samuel Bussières, group manager, Garnier haircare, tells MiC.
Bussières says that being environmentally friendly has become a trend and the brand plans to capitalize on that by partnering with Terracycle when targeting its core audience of young moms aged 25 to 34.
"As a brand we are always looking for ways to connect with our consumers and we know that naturalness is a big trend. We see it in all our studies and it is a big concern for our consumers," he says. "What is great about the partnership is that we are making it simple for consumers, educating on how to recycle when it comes to personal haircare items, and we are taking the lead as a brand to reduce the landfill waste in the cosmetic and haircare product industry."