The Verdict: LG's Facebook success
MiC dissects the campaign that led to a Facebook mandate for the tech company.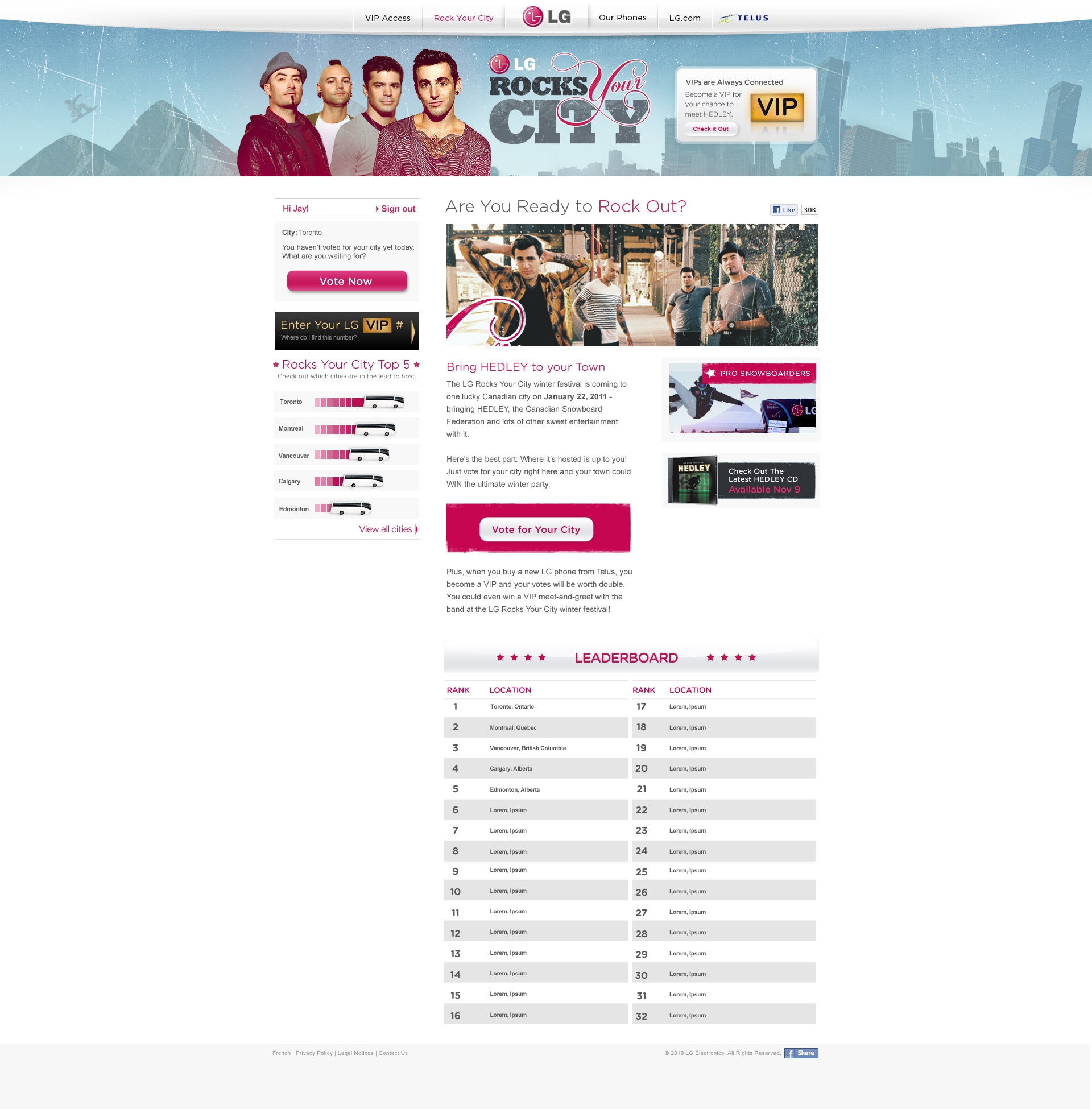 The January 2011 "LG Rocks Your City" campaign was a test of the social-media waters for the company. It was launched to drive awareness for its new line of Optimus mobile phones and build Facebook fans, Raj Patel, LG digital brand manager, tells MiC.
Operated solely online, the campaign drove to LG's Facebook fan page, which offered consumers a chance to "rock their city," and vote for their hometown to host a winter festival, complete with a performance by Hedley.
The result was a 200% growth in fans, with 8,120 new fans attributed directly to the contest, as well as 53,000 votes and 25,000 plays of its online video ad.
In the end, 6,200 people attended the festival, which was won by Brandon, MB.
Patel says the success of the social media campaign, which was created by Toronto-based agency Henderson Bas Kohn, led LG to recently mandate that all future advertising campaigns must include a Facebook element.
There are many upsides to using Facebook as a promotional tool, says Patel, but the networking site was primarily chosen for the campaign because of the need to connect with the widest range of Canadians on a location-by-location basis.
The company did this through using Facebook's "reach-block" ads, which appear on the homepage of every member in your target audience within 24 hours. LG used the approach three times over the course of its campaign.
"The reach-block ads were a major part of our success," says Patel. "They allowed us to hit everyone in our demographic immediately, and it grew from there."
Patel also notes the simplicity of buying media directly from Facebook was appealing to the brand, and says the social network was helpful in tailoring LG's ad.
LG also used a microsite and banner ads to aid in the online campaign, but chose not to centre the campaign around the temporary  site, says Patel.
"When you have a microsite, you might draw people in, but once the promotion is over, they're gone. With Facebook, we captured that consumer indefinitely."
Ultimately, says Patel, LG's experience has made the brand recognize that it will get better results using Facebook as a quick and effective connection tool, rather than for simply selling products.
"The main learning from the campaign is that when we engage consumers, we need to communicate to them on a personal level," he says. "Product push is not what Facebook is for. It's for building a brand connection with our fans, which we hope to lead into brand advocates of LG, thus in the end making LG top of mind when considering to purchase a consumer product."