Fido targets Quebecers on moving day
The cell phone provider launches a Montreal campaign, taking its new mobile site and doghouse for a ride in the park.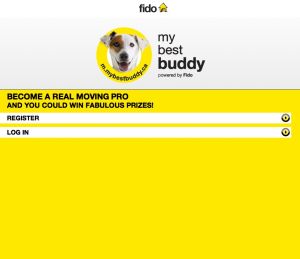 Fido took advantage of Quebec's yearly moving day last Friday to launch its product offerings and new mobile site, m.mybestbuddy.ca to young people constantly changing homes.
The summer campaign, which runs until July 24, was developed with media from OMD and creative by Montreal-based agency EM and involves Fido agents riding electric bikes with doghouses attached, carrying demo phones that showcase the mobile site's capabilities to consumers. During the one-minute intervention with passers-by, Fido agents distribute sunscreen and bags to keep them interested and listening, Renée-Maude Dosite, Account Manager, EM tells MiC.
Supporting elements directing consumers to the site are found online and in print, including banner mobile ads on Google, Kijiji, Meteo and MSN, and in Metro Montreal and 24 Heures.
To give Quebecers a helpful boost in their moving preparations, the mobile site holds an app with useful tips and a checklist to help make the transition an easy one, as well as a geo-location feature to assist in finding new neighbourhood services such as banks, stores and restaurants. The site also encourages users to enter a contest for prizes including a trip for two to the Dominican Republic.
The cell phone provider typically sees a lift in sales in the summer months and it wanted to focus its attention on the young, active adults in the city who are always looking for a good deal during the moving season, says Dosite.
"Young adults move every year and [Fido] wanted to talk about their new city services," she says. "It is a big period for Fido, bigger than Christmas. Everybody is changing their phones because they are moving. It is a low-cost membership and [Fido] wanted to talk about it during this period."