Just For Laughs and OMNI launch Chinese comedy special
First Hindi, and now Mandarin: the comedy festival and broadcaster are producing content for an increasingly multilingual Canada.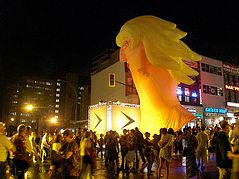 A more risky Canadian TV concept is hard to imagine: Montreal's Just For Laughs comedy festival has produced a Mandarin-language Chinese comedy special, with English subtitles, for OMNI Television.
The Chinese Comedy & Variety Show, to air here on July 10 and later in China on CCTV3, will feature Chinese comedy giant Jiang Kun, a superstar in his home country.
"Go by the numbers, and he (Jiang Kun) is the biggest comedy star in the world," Just For Laughs COO Bruce Hills says, citing China's massive market and an audience reach of 30 to 40 million viewers on CCTV3 alone.
The 90-minute comedy special, which pairs Jiang Kun and Canadian Mark Rowswell, whose stage name in China is Dashan, was shot last year at the Toronto Just For Laughs Festival.
Jiang Kun brought his Quyi Performing Arts Group to Just For Laughs Toronto for the live show.
Rowswell, who is a household name in China for his TV comic performances there, wasn't available to appear at Just For Laughs Toronto last year, and so contributed his performance to the TV special in-studio.
Jiang Kun and Rowswell, two of China's most recognized TV comics, coming together on a Toronto stage and in front of Just For Laughs cameras is part of a bold initiative by the Canadian comedy festival to break out from its roots in English and French language content.
"The world is so much bigger than English and French, and Canada is bigger," Hills says.
To meet a more multilingual Canada, Just For Laughs and OMNI earlier produced a Hindi-language comedy special, Just For Laughs Hinglish.
That TV show saw comic Sugar Sammy come on stage and speak in Hindi, and quickly switch into English.
"He adapted to the crowd," Hills recalls. "So if someone in the audience didn't speak Hindi, he (Sammy) wiggled in and out enough to appeal to them."
Just For Laughs and OMNI are figuring out the right balance of a third language and English as it develops future TV comedy specials in additional languages, including Italian and Spanish.
The reason is simple: OMNI has a mandate to cater to third-language audiences in Canada beyond French and English. And Just For Laughs has long been about going into the world and bringing back to Canada the best international comics to entertain Canadians of all backgrounds.
"We're figuring out the balance out. It's worked so far," Hills says.
From Playback Daily