App-etite: York U launches a portable plate of sites
The GTA-based university aims to make interactions simple with a series of apps for BlackBerry, iPhone and Android.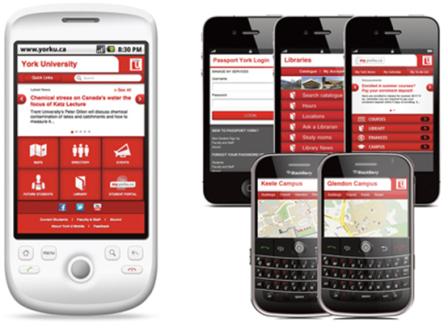 York University has made a considerable addition to its mobile presence, by recently launching five new mobile sites to its portfolio with the intent to, literally, steer students in the right direction.
The HTML5-based applications provide students with maps of the University's Keele and Glendon campuses, student portal, library, website home page and Passport York secure sign in.
The decision to customize this particular set of online content for mobile was made after an online survey, in which students and staff communicated their mobile needs, was conducted late last year, Bob Gagne, chief information officer, York University tells MiC.
"Students gave examples of things they need, things that are time-sensitive like class schedules, exam timetables and notifications for course material," he adds.
Predominantly targeted to the university's students, the app will be promoted on-campus through posters as well as within student newsletters and during the start of term presentations given in class, says Gagne.
When asked how the mobile applications compare to other universities, Gagne says it's distinctive because "we have done it completely as an HTML5 application, so it isn't necessarily a downloadable app. It's essentially like a mobile website that allows us to fairly easily develop a presence that accommodates a broad scope of devices," with users able to access the sites on BlackBerry, iPhone and Android.
"Our aim is to make interactions with the university simple," he says. "It is certainly recognizing the evolution of the role of these devices in our students' lives, to try and make our services more convenient, and to really just go to where they are."