The Walrus Laughs with Stella Artois
The Canadian magazine partners with the Labatt-owned beer to provide a less academic, more satirical platform for an untapped audience.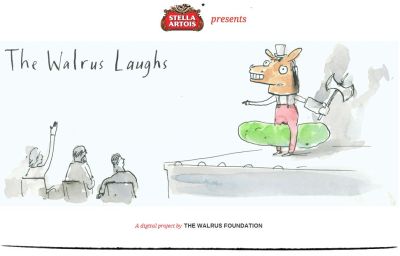 The Walrus is letting its tusks down on its new site, The Walrus Laughs, establishing it as a humour-filled haven for readers who decide to steer away from world affairs and instead take a gander at the publication's witty side.
The site, which is sponsored by Labatt-owned Stella Artois, consists of three columns of comedic articles, photography, audio, video and poetry created by Canadians. The pieces showcased in each of the three columns are submitted, respectively, by Walrus comedy producer Perry Rosemond, The Walrus online editor Matthew McKinnon and The Walrus Laughs readers.
"We realize that we have a lot of witty, humorous pieces that have been published in the magazine, and that The Walrus can sometimes be seen as quite serious," Shelley Ambrose, executive director, The Walrus Foundation and co-publisher of The Walrus magazine tells MiC.
"We always try to further our [audience] reach. We have so few marketing dollars and we believe there are a lot of natural Walrus readers out there that we have not yet found," she adds. "We are here for curious and engaged Canadians. It is just another way in, for people who are not interested in public policy but in humour."
With all media and creative for the site being done in-house, The Walrus Laughs will be promoted on the Labatt website as well as on The Walrus's site and in print.
Partnering with Stella for the first year was an easy decision for The Walrus Foundation, as they have been the publication's beer sponsor for years and their audiences align nicely, says Ambrose.
"I think the way [Labatt] sees a Stella drinker is the same way that we see a Walrus reader – they are slightly discerning," she says.
Stella Artois brand manager John Robinson agrees, saying the partnership is a great fit for the beer.
"The Walrus Laughs is a natural fit with the Stella Artois beer drinker, who has a discerning taste, enjoys smart and witty humour and loves a great read," he says.
To get readers involved in the content, The Walrus has asked them to vote for the pieces they deem best of the bunch. Those which receive the most votes rise to the top of the page and will be recognized on May 24, 2012, when the Walrus Foundation will hold an event in Toronto for them to perform readings of their work.
The foundation has given sole sponsorship rights to Stella for the year, but will be open to additional sponsors once the one-year deal comes to an end in May 2012, says Ambrose.