Dealfind builds C-suite
The Canadian group-buying site begins a $31 million expansion with a new CMO and CTO.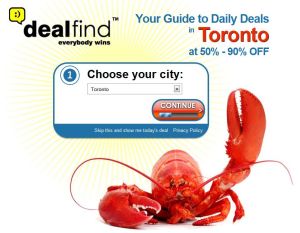 Canadian group-buying site Dealfind has started a $31 million expansion with the addition of Marina Glogovac as the company's new CMO and Paul Van Run as chief technology officer.
Glogovac, who most recently worked at eBook retailer Kobo has also held positions including CEO of Lavalife Corp. and publisher of magazines including NOW, Toronto Life and Saturday Night. Her responsibilities at Dealfind include increasing the company's presence in the US and international markets.
Van Run comes to Dealfind from IBM Canada. His duties at the company include ensuring its technology is ready for its anticipated growth in 2011.
Dealfind's expanding staff comes on the heels of an announcement that the company has secured a $31 million venture capital investment, according to a release.