App-etite: ScoreMobile launches on Playbook
The multi-platform sports app gets rebuilt, giving sports fans more in-the-moment coverage.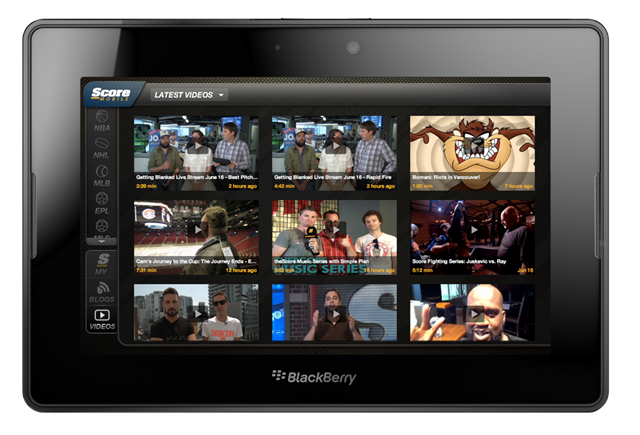 ScoreMedia knows its apps. With a foot in the iTunes, Android and BlackBerry markets, ScoreMobile has a monthly unique reach of three million users worldwide.
The media company hopes to widen its range even further with its recent launch of the ScoreMobile app for Playbook.
ScoreMobile is ranked on Blackberry App World as the leading free multi-sport app, Dale Fallon, VP, digital products, Score Media Inc., tells MiC, so creating an updated app for RIM's Playbook seemed like the logical next step for the media company.
The unique advertising opportunities on the new Playbook app include a launch interstitial unit, pre-roll video spots and standard banner ads, says Fallon, adding that the company is always open to other "bright ideas" from potential advertisers.
Though plans for promotion of the app have not yet been finalized, Fallon confirms that ScoreMedia will promote the app through its own media channels and partner up with RIM on marketing.
The app, targeted at the "connected consumer," was "created from the ground up for the Playbook," says Fallon, noting that it includes all the stats and scores of its predecessors, but will also feature blogging and tweeting designed to accompany watching live sports on TV, as well as a more interactive touch-screen experience.
"We want it to be a very elegant experience for the tech early adopter," explains Fallon, noting that as the app evolves, ScoreMedia sees it becoming even more interactive, with added video content to feed consumer demand.