Postmedia reports third quarter loss
Revenue for the quarter, which ended May 31, is down $11 million over the same period last year.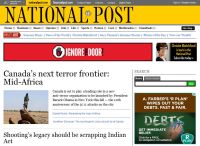 Revenue is down $11.2 million at Postmedia for the third quarter, versus the same period last year, according to a report released yesterday.
Paul Godfrey, president and CEO at Postmedia said in a release that the drop in numbers is a result of the "slow and sporadic recovery in the Canadian economy which has affected both consumer and advertiser confidence."
The decline is primarily due to a dip in print advertising revenue at the company, which was down 4.7%, or $8.4 million over the same period last year. Print circulation also dipped, down 2.8%, or $1.7 million. Other revenue declined $2.8 million due to the loss of a commercial print contract in the first quarter of the current fiscal year.
According to Postmedia, these losses were partially offset by growth in digital revenue, which increased 8.2%, or $1.8 million versus the same period last year.
Also announced yesterday, Postmedia has expanded the responsibilities and title of chief transformation officer Wayne Parrish to include revenue. Parrish has been with the company for nearly a year and will be responsible for all revenue-generating areas of business development, including marketing, advertising sales and new ventures, according to the release.
Postmedia owns 11 print and digital newspapers across Canada, including the National Post, the Gazette and the Vancouver Sun. It also owns and operates additional digital properties, including Canada.com and Dose.ca.