Visa takes a ride with small business owners
Finalists in the credit card co's contest, "Canada's Longest Elevator Pitch," were given the chance to talk up their business in one minute.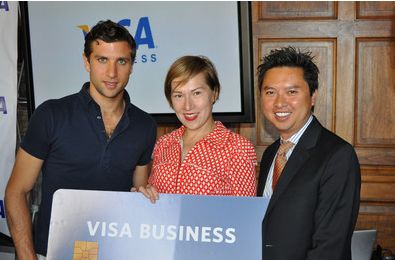 It takes 60 seconds for a building elevator to make its way from the 49th floor down to the ground level. This is the same amount of time small business owner finalists in Visa's "Canada's Longest Elevator Pitch" contest were given to impress a panel of judges.
The idea for the elevator-pitch contest, which launched May 9 and finished up yesterday, was concocted in the offices of TBWA\Toronto, with media planning by OMD, to promote Visa's business card, Lisa Wall, account leadership, TBWA\Toronto tells MiC.
"[The contest] is connected to the insight that small business owners always have to pitch their businesses," she says. "You never know when you are going to have to pitch your business on the spot."
Yesterday marked the final instalment of the contest as five finalists were given 60 seconds to talk to judges, including the founder and CEO of Freshii, about their small business and why it deserves to be given a $10,000 Visa business card jump-start.
Visa promoted the contest by targeting entrepreneurs and small business owners through prints ads in Maclean's and the Financial Post, radio ads on Chum FM, as well online and through social media.
Below, see video of  contest winner Anna-Maria Mountfort's winning pitch for her company, mimiTENS, which creates specialty mittens for kids.