Labatt not giving up the NHL fight
The beer company, which added three new team sponsorships last week, is still battling to become the official beer of the league.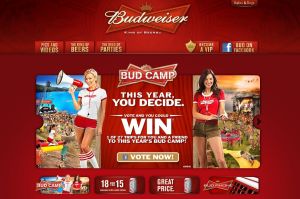 The gloves are still off in the fight to be the NHL's official beer. Labatt announced last week that it is not giving up its legal battle versus the league and Molson, after they issued a release announcing it had won the case after a decision was released from the Ontario Superior Court of Justice.
"We are going to be pursuing all legal avenues we can," J.R. Edwards, media and sponsorship group head, Labatt Breweries of Canada tells MiC.
Labatt also announced last week that its Budweiser brand had become the beer sponsor for the Vancouver Canucks, Calgary Flames and the Winnipeg Jets. The Canucks and Flames were previously with Molson and the Jets recently moved back to the city from Atlanta. Edwards says the beer won't be changing the names of any of the team's buildings, but anything else is fair game.
"It's going to be very obvious that the beer sponsor of these teams has changed," he says. "As we continue to go down the road with the NHL we are reinforcing hockey at the professional level as well as at the grassroots level in the coming months."