Gorilla Nation to rep ad space for International Business Times
The media company adds to its business portfolio with sole Canadian rights to ad inventory on Ibtimes.com.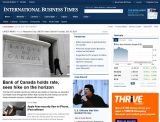 Gorilla Nation, which is part of LA-based parent holding company Evolve Media Corp., has recently acquired the sole Canadian rights to ad space on the International Business Times site.
The online branded sales company, which typically targets men aged 18 to 34, is currently looking to expand its business portfolio as a way to target a more affluent male demographic, which is a market of interest to its advertisers, sales SVP Walder Amaya tells MiC.
Amaya says Gorilla Nation became interested in the partnership with Ibtimes.com after seeing the results of a proprietary survey the publication did in January 2011. The results showed, amongst other findings, that 50% of the site's readers were in senior-level or executive business positions.
Gorilla Nation also owns advertising inventory on business sites including Reuters, Business Insider, Inc., The Atlantic and The Guardian.
Advertising opportunities available on the International Business Time will range from the standard display units to sponsorship opportunities for specific content, text links and wallpaper ads.