Finding loyalty in likes: study
Global research co Ipsos Loyalty discovers just how much Canadians are influenced by their social networks.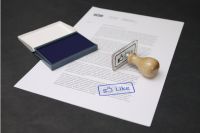 The line between brands being recommended in person and being "liked" on Facebook is promptly becoming blurred.
According to the latest poll from Ipsos Loyalty, 49% of Canadians feel strongly (5%) or somewhat (44%) influenced by peers in their social network when it comes to their opinion of brands.
Conducted in May, the Ipsos Loyalty online survey asked Canadian participants a series of questions relating to the influence that social media recommendations have on their view of brands or companies. Two groups of respondents participated in the study of 844 Canadians – adults aged 18 to 34 and  adults over the age of 55.
The report claims that being promoted by users on social networks is important for brands, stating that 48% of Canadians follow at least one brand. "Liking" brands or companies sits more favourably with the younger crowd (age 18 to 34), where 59% will follow an average of five brands while only a third (30%) of respondents age 55+ will follow an average of one brand online.
"These results show that social networks influence impressions and ultimately the bottom line," said David Pierzchala, VP, Ipsos Loyalty in a press release. "For younger Canadians the importance of being 'liked' is the generational equivalent of being recommended at the backyard BBQ."
It's not all positive news for brands that have pages on social media sites though. More than a quarter (28%) of respondents admitted they've stopped following a company, with 55% of them saying they did so because of a loss in interest.