CRTC renews Weather Network, MeteoMedia licence
Station owner Pelmorex commits to increasing the amount of revenue it allots to Canadian programming under the new licence.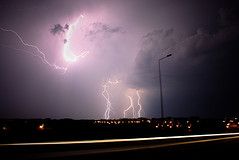 Canadian content will receive a greater share of The Weather Network pie in the years ahead, as channel owner Pelmorex commits to increased funding as part of its CRTC licence renewal.
The CRTC granted the channel, and its French-language equivalent, MétéoMédia, a renewed broadcast licence until 2018. In return, Pelmorex committed to the ongoing creation of a national emergency alert system and to apply upgrades to its broadcasting and distribution model.
Specifically, Pelmorex committed to increasing the amount of funding allocated to the production of Cancon to a minimum of 44% of its gross revenues, and that the programming be 100% Canadian in nature.
It also pledged to create three new regional feeds by Dec. 1, 2012 and to launch high-def versions of the channels.
As part of its licence renewal, The Weather Network and MétéoMédia retain their status in basic Canadian cable packages.
From Playback Daily
Photo: powazny, Flickr Creative Commons