CIL paints a manly promotion
The brand targets a younger demo with a campaign that renames its colours.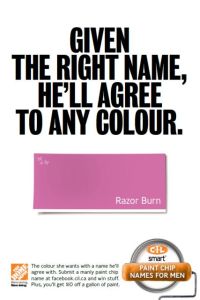 AkzoNobel-owned Canadian paint brand CIL is launching "Paint Chip Names for Men," a summer campaign which targets a new audience for the brand, younger first time home owners, Alison Goldman, marketing communications manager, AkzoNobel tells MiC.
"CIL is traditionally the grandfather of paint brands," she says. "We felt that it was time that we put ourselves in front of a younger demo. We were always aiming at the 35- to 55-year-old market and now we are hoping to bring it down to 23, but still keep the 55."
Previous female-skewed promotions focused on the brand's four mood groups and the different colours in each with women being invited to discuss their own moods on the website. Goldman says not many men want to participate in a discussion about their moods, so it didn't relate to them.
Starting Aug. 3 until Sept. 30, the creative for the campaign sports the tagline, "Given the right name, he'll agree to any colour" and makes light of the decision-making people go through when choosing paint colours.
Toronto-based Reason Partners is handling creative on the campaign, with MediaCom executing the media planning, placing ads in national newspapers, on transit shelters and online.
"We could go after our competitors based on product quality, but we think that is a message that is sometimes easily lost," says Goldman. "We wanted a promotion that would be distinguishable from our competitors. Something that would drive traffic."
On Facebook, consumers can create paint chip names that men will agree with their female partners on. Visitors can download a $10 off next purchase coupon after creating a name on the CIL or Home Depot pages and can "like" other people's name creations.
To get an idea of what constitutes a "manly" name, the app gives examples including Beer, Bacon, Putting Green and Hockey Puck – to name a few.