Notes from the Mediascape: LG Mobile rocks in 3D
The teleco partnered with YouTube and Jane's Addiction to launch its first 3D phone.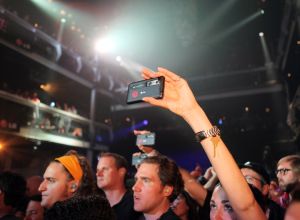 As a part of LG's "Bring Your World Alive" campaign and in celebration of the launch of its LG Thrill 4G phone, LA-based band Jane's Addiction and YouTube partnered with the teleco to create a concert event that made 3D filmmakers out of consumers.
Close to 1,500 fans congregated at a New York music venue on Monday night to watch Jane's Addiction play a 60-minute show on a 360-degree stage. LG and the band chose 100 concert-goers to help document the event with the LG Thrill 4G and spent some time in the afternoon showing them how to use its 3D video capabilities, Joe Killian, senior VP music and entertainment from Momentum NYC, the agency responsible for bringing the idea to life, tells MiC.
Media efforts leading up to the concert were planned in the New York offices of Publicis Modem and included ads on YouTube and Google as well as promotional support from Jane's Addiction on the band's Twitter and Facebook pages.
The brand wanted to create an experience that would translate the ease of the new phone's product features to its target audience of 15 to 40-year-olds, says Killian.
"Typically when you think 3D, you think high technology and a big expensive camera," he says. "But the phone is quite easy to use. It is intuitive and also has the ability to share. The brand wanted to put this in the hands of consumers to show them just how easy it is to use."
He adds: "I think in general more and more brands look to involve consumers in the launch of their product, particularly in something as personal as a handset. Your handset is such an extension of who you are and the brand wanted to launch it in such a way that consumers were able to get up close and experience it."
The captured footage from the show will be edited to become a documentary that the brand has named the "World's First 3D User-Generated Concert" and will become live on YouTube on Aug. 4.
LG's "Bring Your World Alive" campaign will continue with a 3D Gaming Tournament held in San Francisco on Aug. 10 where users will be invited to play a 3D action game, developed by Gameloft, using the LG Thrill 4G.