Future Shop is "everywhere"
The company targets a new audience with its most multi-platform back-to-school campaign ever.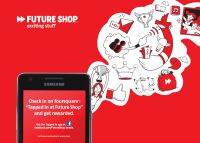 Future Shop has ramped up its back-to-school offerings this year with a multi-platform campaign targeting first-year university students.
The "Be Everywhere" campaign, with media by Media Experts and creative by Cossette, launched July 29 in English and French, running until Sept. 8, and aims to help students stay constantly connected while adapting to the changes associated with a new school year.
Future Shop does not typically target students, tending to aim at parents for its back-to-school campaigns, but Nikki Hellyer, director of marketing, Future Shop, tells MiC the company wanted to flip that approach on its head this year.
"They have more influence than ever before," Hellyer says of the younger student demographic.
In addition to a 30-second TV commercial airing nationally, in-store POP and an in-store magazine, a 15-second cinema advertising spot, and on-campus engagement, there will also be an OOH campaign in major markets across the country (Toronto, Ottawa, Montreal, Quebec City, Edmonton and Calgary) and a strong online and social media component.
The creative, which is being adapted through the various mediums, uses street-art animation graphics that are meant to highlight both the excitement of going back to school, the imagination and the possibilities that come from using various technologies to stay connected. For instance, the commercial features a student working in a library, whose computer explodes with various animated objects that morph into Twitter birds and other graphics.
The strategy behind "Be Everywhere" came from the idea that starting a new school in a new environment can be exciting but stressful when you're trying to be everywhere and stay connected with friends, family and social networks, says Hellyer. For students, it's important to be constantly connected, she adds, and the "Be Everywhere" concept fit with the idea that, with the right technology and devices, students can do just that.
Students can download the "Tapped In" app from the Future Shop Facebook page to earn credits for Future Shop gift cards (with a maximum of $20 per person). Credits can be earned by "Liking" Future Shop on Facebook or by using the #BeEverywhere hashtag on Twitter. On various student-targeted websites, people can upload photos and play games to get credits. One such game called "Gerbil Hunt" asks users to find the gerbil in the online ad and if they do, they can enter a code into the app.
The company plans on giving away $101,000 in gift cards via this method.
Future Shop campaigns typically don't have this many layers, Hellyer says, and taking a multi-faceted approach across a range of media was vital. While a TV commercial is still an important piece of the media pie, students likely won't catch those ads in the summer, she says, hence the more interactive online and social media elements.