Transcontinental acquires Groupe Le Canada Francais
The deal includes both the print and digital properties for the six papers in the group.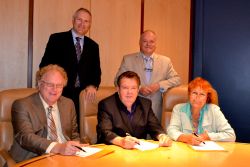 Transcontinental Media has acquired the publishing assets of Groupe Le Canada Francais, a deal which includes the company's print assets and websites.
Newspapers acquired in the deal, include Le Canada Francais, the paid weekly with the largest circulation in Quebec, Saint-Jean-sur-Richelieu's Le Richelieu, Napierville's Le Coup d'Oeil, Granby's Le Journal L'Express, Farnham's L'Avenir & Des Rivières and Cowansville's Le Guide.
In total, the papers acquired have a circulation of more than 155,000. The deal also includes websites such as Canadafrancais.com, Granby.enregion.ca, Cowansville.enregion.ca, Farnham.enregion.ca and Trouveztout.info, which reach over 30,000 unique visitors a week.
"The Groupe Le Canada Français is a jewel of the weekly press in Quebec, a newspaper institution that shares our goals of excellence and rigour," said Natalie Larivière, president of Transcontinental Media, in a press release. "We are proud and privileged to be continuing the Group's publishing tradition with its employees, talented people who have established its reputation over time. This acquisition fits with our plans for developing our network in Montérégie and enhancing our integrated offering to regional and national advertisers."
Photo: In the back, from left to right: François Olivier, president and CEO, Transcontinental; Marc Ouellette, SVP, Local Solutions Group, Transcontinental Media. Seated, from left to right: Renel Bouchard, Robert Paradis and Maryse Racicot-Gagnon, the three shareholders of Groupe Le Canada Français.