Rogers Bundle tops the radio charts for second week in Toronto
The Government comes in at #2 in TO, while Dormez-Vous rises to #1 in Montreal according to Media Monitors for July 25 to 31.
Rogers Bundle remains at the top of the Media Monitors radio ad buy charts in Toronto with a buy of 740 slots between July 25 and 31.
The other two top contenders, The Government of Canada and Ontario Tourism, stay the course for the second week at #2 and #3 respectively.
Two newcomers enter the list with The Beer Store at #8, and Universal-Paramount film Cowboys & Aliens coming in at #9.
The biggest shift was Sears' move up to #7, from a previous #24.
In Montreal, mattress retailer Dormez-Vous snagged the top spot from last week's #7 with a buy of 237 spots. This pushed previous #1, the Government of Canada, to #2, while the Just For Laughs comedy festival rounded out the top three, in a move from #6. New to the list is Corbeil Appliances, coming in at #8.
Amongst relatively minor shifts in Montreal, Sears echoed its English Canada buy and pumped up its radio advertising to place the department store chain at #4, from a previous #13.
Toronto
By category: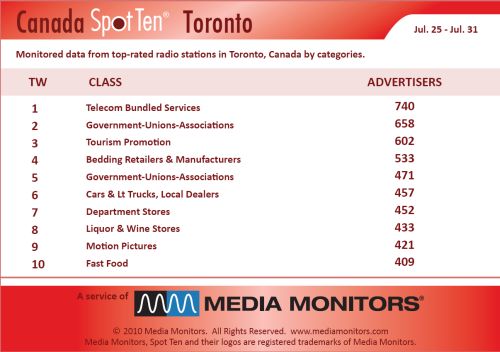 By brand: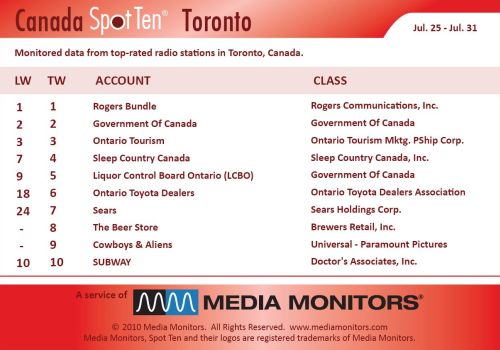 Montreal
By category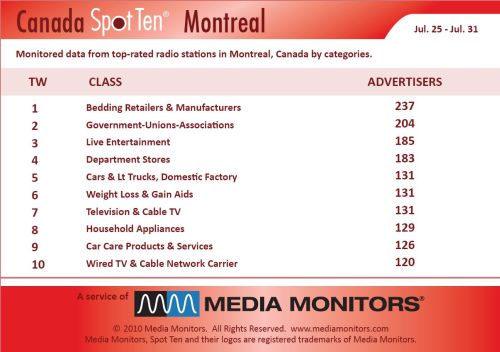 By brand