Rogers to stream baseball and tennis
Coverage of Toronto Blue Jays games and the Rogers Cup will be available to TV, internet and mobile subscribers.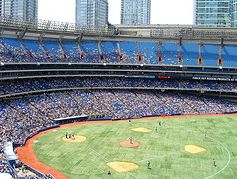 Rogers Communications on Tuesday night will start live streaming its Rogers Sportsnet coverage of Toronto Blue Jays baseball games on its Rogers On Demand Online and Mobile services.
The new offerings come on top of Rogers's existing Rogers Sportsnet and Sportsnet Radio FAN 590 services as the sprawling media group looks to fully exploit its content on a range of existing and emerging digital platforms.
Blue Jays games will be available for free to Rogers' cable, wireless phone and high speed internet access customers that have access to the TV-anywhere Rogers On Demand Online service or Rogers On Demand Mobile subscription.
And, from Aug. 8, Rogers will provide live streaming coverage of the 2011 Rogers Cup tennis tournament on the online and mobile services.
Executives at Rogers Communications were not available at press time to indicate whether the live streaming of Toronto Blue Jays games will be made available to rival and indie content carriers.
The recent CRTC hearings included several industry voices warnings against exclusive program rights agreements, with indie carriers urging that they be able to secure access to the TV content of vertically integrated carriers like Rogers on fair terms.
From Playback Daily
Photo: Beth and Christian, Flickr Creative Commons