Spotted! Flight Network deflates prices at the pump
The travel website surprised drivers at a Toronto gas station before the long weekend.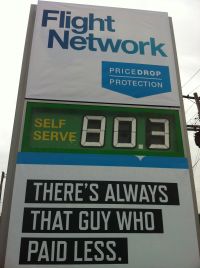 Torontonians got a surprise at the gas pump last Friday when Flight Network, a Canadian online airfare booking site, dropped the price of gas by 50 cents per litre at the Tru-Value Gas Bar at Eglinton Avenue East and Warden.
The event was part of Flight Network's recently launched Price Drop Protection program, which allows customers who book through the website to track flight price drops after they buy and receive a credit if the price goes down.
Planned with Leo Burnett, which did the creative for Flight Network's recent rebrand, the gas-guzzling event drew a parallel between fluctuating gas prices, which seem to rise before a long weekend, and airline flights costs, which can sometimes go down after booking.
"We looked at other things in life that the price always changes on," Gail Rivett, CMO, Flight Network tells MiC.
At 8 a.m. that morning, gas prices dropped from $1.30 per litre to $.80 per litre. Less than five hours later and the gas-pumping Flight Network team had exhausted the 20,000 litres of gas allocated for the promotion, which allowed people to fill their tanks up to 50 litres. Some 470 cars passed through, says Rivett.
Gas pumps were decorated in Flight Network's new branding, as was the gas price sign, and promotional items like cooler bags were also passed out.
Facebook fans are already asking when other similar events are being rolled out across Canada, something Rivett says they're looking at doing in the future.