Amex tells you where to go
The credit card co's multi-platform campaign includes an interactive events page on the Toronto Life website.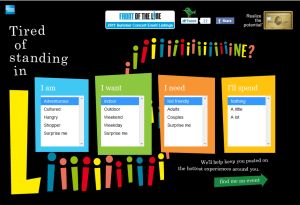 American Express is bringing its "Realize Your Potential" message to life with night projections and hand painted murals on buildings across Toronto, as well as a recently launched partnership with St. Joseph Media-published Toronto Life that merges entertainment and content into its ad space.
The media executions for Amex's campaign are about changing consumer's perceptions of the credit card co, David Barnes, VP of advertising, sponsorships, and communications, American Express tells MiC.
"We usually skew to the more affluent end of the marketplace, we're trying to broaden the appeal of American Express by going more to families," he says. "We want to be considered by people who might have not thought of us before."
Amex has placed an interactive ad, titled the "American Express Events Generator" on TorontoLife.com, which asks visitors a series of multiple choice questions about what they want to do and generates a list of events, which not so coincidentally all accept American Express. This is a first for the publication's website and the credit card co.
"Toronto Life is playing off of the access to entertainment element within our services," says Barnes.
The media for the campaign was done by Mindshare, with creative by the Toronto offices of Ogilvy & Mather.
"We want to show that we are more than just a card or a payment instrument, we want to show the quality and breadth of our services," Barnes adds. "We are trying to bring the campaign to people by intercepting them in a positive way."
Other elements of the campaign include Amex billboards and night projections, which have taken up a large portion of OOH real estate in Toronto's entertainment district. TV spots are appearing on channels such as CTV, Global, Citytv, Bravo, Discovery and Food Network, and print ads in magazines such as Canadian House & Home, Maclean's and Lulu. The campaign also includes Facebook fan pages and online ads on websites including YouTube, Yahoo! Canada, MSN Canada and the Globe & Mail.