Axe Canada launches online channel
The brand puts a very modern twist on Shakespeare with a new online destination providing shareable content.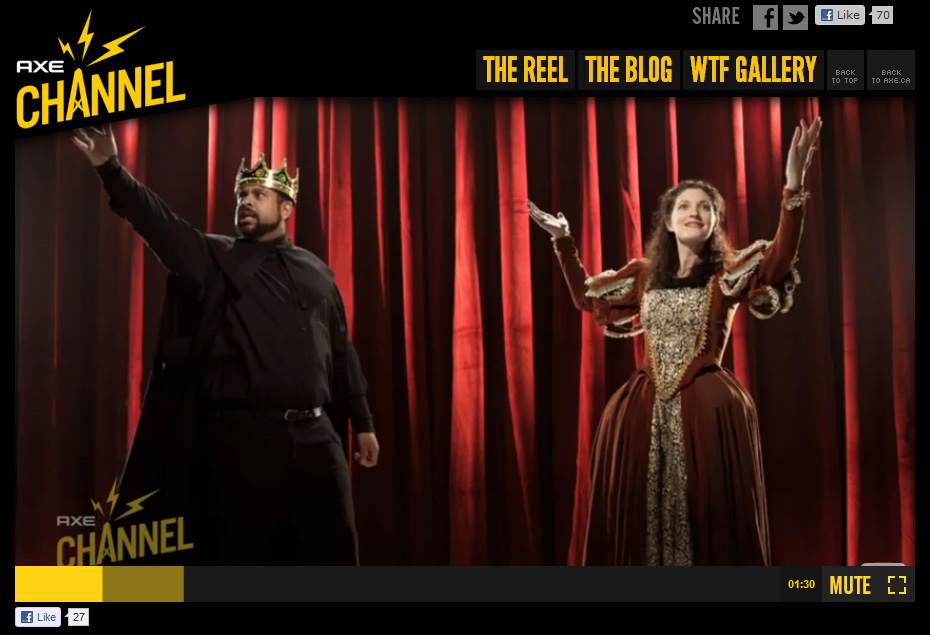 If you've ever wondered where you could find a sexting conversation acted out as though it were part of a Shakespearian play, then Axe has got the place for you: the Axe Channel.
The web portal, which was developed collaboratively for Axe by CP+B Canada, Mindshare and Harbinger Communications, aims to make the Axe brand relevant to guys in their social sphere by serving up some shareable online entertainment.
"Shakespearian Sexts," which feature dramatic renditions of sexting convos by (over)actors performing as though they were on stage at the Globe Theatre during the Elizabethan Era, is one of two wacky video segments housed on the site. The second is called "Boring Serious Stuff," in which voiceovers conveying educational tidbits, like a background on parliamentary systemic, are made more interesting by accompanying shots of sexy women being, well, sexy. The segments are introduced by an enigmatic British host who provides cool-sounding, but nonsensical, anecdotes before introducing the segments.
"We wanted to create an entire ecosystem where we're linking our social stuff into YouTube and back into Facebook," says Michael Murray, CD, CP+B Canada. "It's really about how we can engage our target in a way they can relate to. We're leveraging the equity in the Axe brand and there's an expectation that Axe do interesting work."
The site also includes a WTF Gallery of pics featuring strange people doing strange things (for example, a man wrapped in newspaper sitting against a newspaper box while reading the newspaper), and blog entries on everything from style to Toronto's best dive bars. The combination of hosted video, images and editorial makes the site something akin to a hybrid between television and a digital magazine, says Murray. He adds that the content reflects how Axe has evolved as a brand.
"[Axe] used to be about the 'Axe Effect,' but now it's about bringing guys and girls together. It's a facilitator. So, a lot of the content is actually focusing on that relationship."
Content, says Murray will be updated on a regular basis. He adds that the creative talents behind the Axe Channel are currently working on some new items to post in the near future, but he declined to divulge the details.