Glam Media Canada goes mobile
The company expands its female target, giving advertisers the opportunity to create integrated campaigns.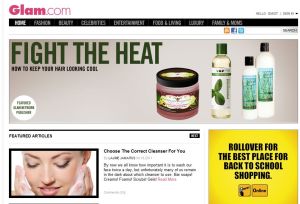 Glam Media Canada is taking aim at the competitive mobile ad space with GlamMobile, to enable brand advertisers to reach smartphone and tablet users via a new mobile advertising and content platform.
Glam Media Canada, already a beacon for online advertising that targets female demos, is looking to leverage that success.
Canadian brands will be able to run integrated campaigns at home in Canada,  in the US and elsewhere internationally, initially on major operating systems that include Apple iOS, Google Android, HP Web OS, RIM and WinMo, according to a company representative.
Competing with Apple iAd's efforts to marry advertising and mobile content, GlamMobile is grafted on the existing GlamAdapt premium ad serving platform to enable campaigns across the desktop and mobile platforms.
The crowded mobile advertising business is also filled with competitors like Google's AdMob, Millennial Media and Greystripe.
Glam Media earlier this year expanded into Canada by acquiring BBS Media, the Canadian ad rep firm, to create Glam Media Canada and sell ads across its Canadian network using its vertical media platform.
Glam Media Canada points to strong interest among Canadian brands in running mobile campaigns, but does not identify local brand marketers that may have come on board.
The interest is coming strongest from the consumer products and auto categories as Glam Media Canada's content platforms continue a major focus on the family/mother, lifestyle and style categories.