The Verdict: Coca-Cola Covers
Launched with the goal of connecting with teens, the campaign garnered four times more hits than expected.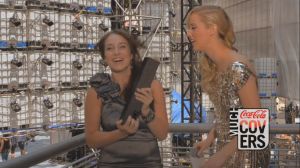 The Coca-Cola Covers campaign was launched with the aim of being the brand's first to specifically target teens and young adults aged 13 to 24.
Working with UM Canada on media, the campaign came from the idea of using the brand as a jump-off point to empower teens, Trevor Bozyk, creative director, activation, tells MiC.
"We wanted to look at new ways to reach youth and one of the things that came out of that were ideas around brand esteem and relevance in their eyes," he says. "Coca-Cola Covers was really about developing a campaign that used the brand as the catalyst for empowering them, giving them recognition and expression."
The Coca-Cola Covers campaign launched on March 7 and was housed on a MuchMusic microsite and asked Canadians to "release your inner superstar" by choosing one of six cover songs to perform.
Contestants were asked to film their efforts and upload it to the Covers microsite where they were voted on by their peers, with the entries narrowed down until a winner was chosen and given the award for Best Cover at the MuchMusic Video Awards on June 19.
The campaign was the first time Coca-Cola has spoken directly to its target market, Carolyn Harty, senior manager, brand strategy, Coca-Cola Trademarks, tells MiC.
"We leveraged the insights on what teens like to do, they like to upload and create content on YouTube," she says. "We understood social media was a big part of how we should bring this program to life. The level of engagement far exceeded what we expected."
Bozyk says the campaign received 1,200 uploaded videos, four times the amount expected when the campaign was launched.
"When you are asking people to upload a video there is a larger barrier to entry," says Bozyk. "At the time we thought we would be happy to get 600. The videos also provided a gateway into the lives of the target audience, we had a window into the space that was really private to them. Not many brands get to be invited into the private lives of consumers. It also wasn't just about the people who were uploading the videos, but about the people who were watching it, sharing it and have this guilty pleasure content."
There were over two million page views on the uploaded videos, with an average time spent of six to seven minutes on the page, says Bozyk.
"Results of the campaign definitely exceed what we expected going in," he says. "We didn't want to set our expectations too high because we didn't know whether it was going to take off."
Bozyk says he learned that when you are dealing with user-generated content there is no way to know how it will evolve.
"Our challenge next year is to take the ability for people to share their entries and build it into the campaign," he says "That part really helps in getting word of mouth and sharing content."
Photo: Coca-Cola Covers winner Danyka Nadeau with MuchMusic VJ Liz Trinnear