Bell buys the airwaves: Media Monitors, Aug. 22 to 28
The mobile co jumps to number one in Toronto and Montreal, keeping wireless carriers as the top category.
Bell Mobility made a leap from #16 to the top spot on the Toronto airwaves, keeping wireless carriers the top category in the city, according to the Media Monitors report for Aug. 22 to 28. The phone company beats out last week's topper, Koodo Mobile, which dropped off the list this week.
Marking the end of summer, the Canadian National Exhibition (CNE) came in at #2 in Toronto. Big moves in the market for the week include Ontario's Community Colleges, which jumped from #32 to #4, and Nissan Canada, which joined the list at #8.
Bell Mobility also bought enough airtime to make it #1 in Montreal, jumping from its previous #11 spot, making it the biggest move in the market for the week.
Ford Lincoln Mercury jumped from #6 to #2 and The Source leapt from #7 to #3, to round out the top spots in the market for the week.
Toronto: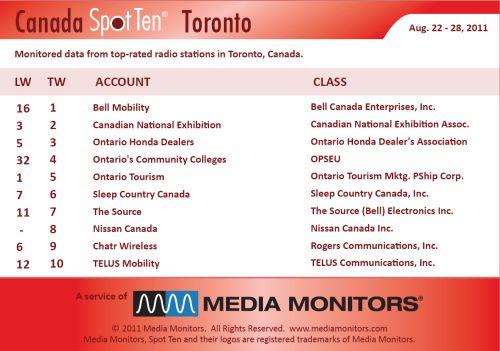 Montreal: