Showcase samples its shows
The Shaw Media-owned network launches a multimedia campaign for four of its fall series.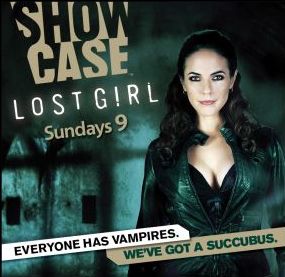 In previous years, Showcase – a Shaw Media specialty channel – has advertised its fall shows on an individual basis with its own dedicated campaign message and differing creative, Muriel Solomon, senior director of marketing, Shaw Media, tells MiC.
The channel has decided to change it up a little this year and implement a more cohesive multimedia campaign, targeted at consumers aged 25- to-54, which shares a series of similar taglines and images, she says.
For example, on a poster promoting its new doctor dramedy series, Royal Pains, the network has wrapped the creative with the tagline, "Most doctors work in hospitals. Ours prefer the Hamptons." For its spy show, Covert Affairs, it uses the tagline "Other spies are well-armed. Ours also has legs".
The theme illustrates what happens in reality vs. what you can anticipate from Showcase.
The channel also chose to focus on promoting two of its new shows, Royal Pains and Warehouse 13, as well as the new seasons of its top shows, Lost Girl and Covert Affairs, with ads on TV, online, OOH, in print and on radio. All of the creative and media were planned and executed in-house.
Promotional wraps for all four of the shows will dominate the St. George subway station as well as transit shelters and other subway platforms in Toronto.
An experiential stunt will be set up as beach-themed installation at Yonge-Dundas Square for Royal Pains on Aug. 31, where consumers can get a taste of the show by watching promo videos and also receive swag given out by the Showcase team.
The campaign will be taken to Toronto cinemas with trailers for Royal Pains and Lost Girl, as well as movie style posters placed inside theatres. The idea around the promo videos is for consumers to sample the shows, says Solomon.
"We felt that a 30-second promo for a new show, with talent that is not necessarily recognizable, will work much better at convincing people to watch the show than just a static ad," she says.
"The theatre [poster] board, from a creative standpoint, makes the product feel much more theatrical and really elevates the entertainment aspect of the show," Solomon adds. "It is a great sampling vehicle and enables us to reach a lot of people outside of our own airways."
The fall campaign launched this week and will run until the end of September.