Yahoo! Canada launches OMG!
The celebrity and entertainment site is open for business, with ad and sponsorship opps.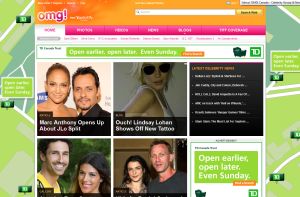 Yahoo! Canada has launched OMG!, an entertainment and celebrity news site targeted at women aged 18-to-35, which aims to be more than just a gossip portal, Gina Cothey, head of Yahoo! Media Network in Canada tells MiC.
"We don't want to be snarky," she says of the direction OMG! will take when reporting on celebrity and entertainment news. "We want to be friendly and accessible with a nice tone."
The celeb-focused news site, which was first launched in the US, then recently in the UK and currently being rolled out in Asia, will be home to North Stars, a Canadian blog that features articles and videos on news north of the border. The US site attracts 42.2 million visitors per month and has had an audience growth of 46% year-over-year, according to comScore.
"We know that Canadians want this site because we have seen a large number of Canadians visiting the US site," says Cothey. "They want what we are doing in the US, but with a Canadian angle."
There will be opportunities for brands to get involved through either sponsorship of content on the site's blogs, which include North Stars, The Juice and OMG! NOW, or through standard online advertising such as web banners and a homepage takeover, says Cothey.
"For example [with regards to branded content], we can have features on celebrity weddings or celebrity getaways that brands can sponsor," she says.
Yahoo! Canada will conduct an official launch celebration at Yonge-Dundas on Sept. 8, where it will roll out a purple carpet for consumers to enjoy a few minutes of fame and have their photograph taken. A graffiti artist, DJ and ambassadors giving out promotional material will also be on-site.
OMG! will be promoted across Yahoo! Canada's network with ads directing viewers to the site.