History Television asks: What's in a Name?
The channel launches a name-themed website, with ad and sponsorship opps, to accompany its new fall show.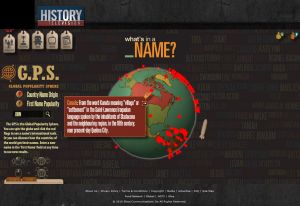 What's in a name, you ask? According to Shaw Media's History Television, everything.
Which is why the channel enlisted Toronto-based Marblemedia to create a name-inspired website to complement its new fall series, What's in a Name? targeted to viewers aged 25-to-54.
The 13-episode series, which premieres Monday, Sept. 12 on History Television, investigates the meaning and history of names assigned to a newborn baby, a rock band or a designer perfume, to name a few.
While the TV series conducts its own examination of names, Whatsinaname.com allows viewers to partake in the fun by providing them with polls, puzzles, info and quizzes on different names, as well as a place to submit their own personal stories. The site is also home to a name-themed blog and videos showing unseen footage and episodes from the series.
Brands can sponsor content such as the polls and blog entries, or opt for full sponsorship of the site, Chris Harris, director of online content, Shaw Media, tells MiC.
"We have the wider full package or smaller components that we can integrate clients into," he says. "The site itself can be fully sponsored with integration points with logos and things of that nature, and there are parts that can be independently sponsored."
There will also be opportunities for brands to advertise on the site in the form of banner ads, leader boards and video ads, Harris adds.
History Television created 30-second TV spots to air on the channel as well as 10-second pop-up ads to air during the series, says Harris, adding that that there will also be ads on Historytelevision.ca and outreach through its social media channels.
"The site complements the series and there is content on there that relates to [it]," he says. "But it is still very original and stands on its own."