The Verdict: Maxwell House gets an optimistic response
The coffee brand shares some of the results from its pop-up cafe with MiC.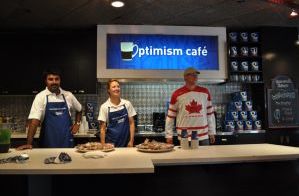 For 31 days in the month of July, Maxwell House took the liberty of passing along some positive cheer with free coffee at its pop-up Optimism Cafe in Toronto.
And in that time the brand managed toreach its goal of sampling one cup per minute as consumers were seen lining up outside the door, Rena Nickerson, senior brand manager, Maxwell House tells MiC.
"At certain points during the [TD Canada Trust Jazz Fest] we had lines outside the door. We had people begging us not to close, saying that they would pay for our coffee if we would just stick around," she says.
While opening up a coffee shop for a one month period may be a costly marketing tactic, Nickerson admits that "it was worth every penny and more."
The "limited time only" cafe was a component of Maxwell House's Brew Some Good campaign, with media by MediaVest and creative from Ogilvy, complemented by a video-heavy website for consumers to visit and catch an optimism break. Brewsomegood.ca saw its heaviest traffic flow (50,000 unique visitors) in the month that the cafe was in business, says Nickerson.
The campaign was supported through the brand's social media channels and in the time that the store was open, the Maxwell House Facebook fan base increased by 8,500 consumers, she says.
"A lot of the results amplify the idea that people are aware of what we are trying to do to," adds Nickerson. "We are happy with the level of coverage and the results have been positive in sales."