Bell Media orders new shows for specialties
Space is to get a sci-fi series based on the UK's Primeval, while Bravo! gets reality dance show Broadway Bootcamp.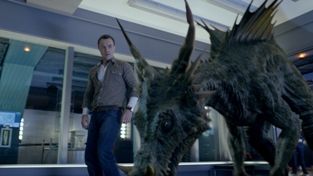 Bell Media looked to Britain and Broadway for inspiration for its new Canadian shows.
The UK series Primeval (pictured) has done so well on Space, Bell Media has ordered a 13-part Canadian-made spinoff, Primeval: New World, from Omni Film Productions.
The mediaco also ordered Broadway Bootcamp for Bravo!, a 13-part reality show about 18 Canadian amateurs preparing to perform a Broadway musical in front of a live audience.
Corrie Coe, SVP of independent production at Bell Media, commissioned Primeval: New World as a one-hour scripted adventure drama that diverges somewhat from the popular British series, featuring new Canadian characters and storylines from Canadian writers.
Omni Film, which produced Defying Gravity for CTV, will work with the producers of the original UK series, Impossible Pictures, to make the Canadian drama. The series follows a team of animal experts and scientists. Production is set for this winter in Vancouver.
The Canadian and British producers will mix and mingle the storylines on their respective dramas, uniting different plotlines.
"This is a truly unique opportunity, building a parallel yet independent series that will appeal to existing fans and new audiences," Coe said in a statement.
"We've worked closely with Space and Impossible Pictures for two and a half years to create this series, and we're excited to take on the challenge of a Canada-UK coproduction with companies whose creative work has impressed us for years," Gabriela Schonbach, VP of Omni Film Productions, added in her own statement.
From Playback Daily