After Dan For Mayor and Hiccups, what's next from CTV?
Those gaps in CTV's Canadian show offerings are about to be filled, says Corrie Coe, SVP of independent production.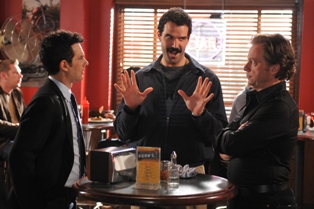 The axe of doom last week fell at CTV on its summer series Dan For Mayor (pictured), Hiccups and So You Think You Can Dance Canada.
But don't despair, insists Corrie Coe, SVP of independent production at CTV. The top network development exec and her team are about to unveil a new slate of Canadian shows in their wake.
"It really is part of the normal flow and cycle of TV," Coe said of the decision to end the three shows after their recent finales.
Peering into CTV's Can-con vault, Coe pointed to recent pick-ups for a fifth season of Flashpoint, a third season of The Listener and a second season of The Borgias.
And as Bell Media's benefits obligations following the acquisition of CTV kick in, the top-rated Canadian network has ordered the Paul Gross project The Horses of McBride, from writer/director Anne Wheeler, and the six-part scripted drama Highland Gardens, for CTV and MuchMusic/MuchMoreMusic.
CTV's development division is also currently looking at rough cuts of the pilots Saving Hope and Stay With Me, both of which were shot this summer.
Coe says she's hopeful one or both will make it to full-season orders.
And over at the Space channel, a second season of Todd & The Book of Pure Evil was ordered, as was a pilot for Borealis from writers Andrew Berzins and Andrew Wreggitt and indie producers Seven24 Films and Slanted Wheel Entertainment. And Space last week unveiled plans to produce the drama Primeval: New World, as a spinoff of the UK sci-fi drama Primeval.
CTV's Coe says she understands the jitters in the Canadian indie production sector over the recent spate of cancellations.
Besides the indie production community being spooked by recent ownership changes at major TV networks like CTV and Global Television, there's little comfort from Canadian networks not following their U.S. peers with a more defined yearly cycle of pilot development/orders/cancellations made each spring ahead of the New York upfront presentations.
"In Canada, it's a little more fluid. People here are scheduling 52 weeks of the year. Some of our shows are fall shows, some January shows, and others are summer shows," Coe observes.
Also encouraging the replacement of cancelled Canadian shows with new ones are CRTC requirements and benefits obligations faced by CTV and other private Canadian broadcasters.
"The requirements of the CRTC regarding Canadian expenditures are clear and well-known, and CTV is meeting its targets," Coe says. "There should be no concerns about us not continuing that, nor would we want to be out of compliance."
Through September and October, CTV is also rolling out refreshed news shows in Calgary, Winnipeg, Saskatoon, Edmonton, Regina and Vancouver.
From Playback Daily