Netflix announces Facebook integration at f8
The deal will see Canadian Netflix members able to share their TV and movie-watching habits with friends through account connectivity.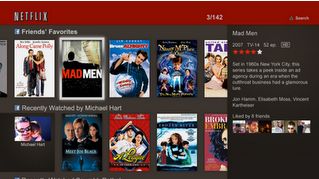 Soon Netflix subscribers in Canada will be able to share all of their unorthodox viewing habits with friends via a new deal the streaming service has announced with Facebook.
Unveiled at Thursday's f8 conference, Facebook's annual developer get-together, the deal will see Netflix subscribers in Canada and Latin America able to link their Netflix accounts to their Facebook accounts. American access to the service is still restricted thanks to a 1980s law that restricts information sharing in this manner, a blog post from Michael Drobac, director of government relations, Netflix, states in a blog.
Connectivity between the two services is accessible from within the Netflix user interface, where subscribers can choose to share their watching habits with their Facebook friends, and see what their friends are watching.
For instance, if a viewer selects a program or film, then they will see how many of their other friends "liked" it, if it appears within friends' Favourite lists or if it's been recently watched by a friend. Users can also see a general selection of programming that was recently watched by people in their Facebook network.
The integration builds on Netflix's much-touted recommendation algorithms, which suggest to subscribers programming choices based on what they've already viewed.
From Playback Daily