Fall TV: Pam Am flies high
The new series debuts with an audience of almost two million.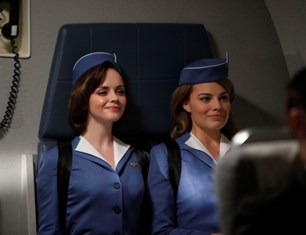 Buoyed by a massive marketing campaign, CTV's Pan Am was off to a strong start on Sunday with an overall viewership of almost two million.
The 10 p.m. drama about the glamorous lives of '60s-era flight attendants earned a 2+ viewership of 1.9 million, an increase from its 9 p.m. lead-in, Desperate Housewives, which attracted 1.7 million viewers. Neither series reached the lofty viewership heights of The Amazing Race, with 2.9 million viewers for its season premiere.
Pan Am earned 916,000 viewers in the 25-to-54 demo and 792,000 in the 18-to-49 demo.
The Amazing Race's almost three million viewers made the premiere its best-ever for a new season, upping its last fall's premiere by 18% in total viewership. The numbers also earned the reality show a #3 ranking for fall TV's premiere week, behind Two and a Half Men's five million viewers and The Big Bang Theory's four million viewers.
CTV also released some Friday prime-time ratings, reporting police drama Blue Bloods at 10 p.m. with total viewership of 1.8 million viewers and CSI:NY at 9 p.m. with 1.7 million viewers.
From Playback Daily