Spotted! The Body Shop and Virgin Mobile beautify
The two companies launched a new makeup line and partnership with makeovers in Toronto.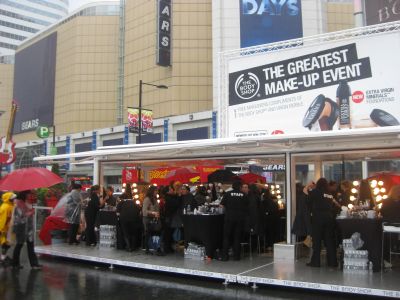 The Body Shop and Virgin Mobile recently celebrated the launch of the beauty co's Extra Virgin Minerals makeup with "The Greatest Makeup Event Ever" in Toronto.
Working with Toronto-based Blackchalk Marketing on the event, consumers were encouraged to come and get a free makeover using the new makeup line, from one of 30 makeup artists on site.
The event was promoted in-store, through social media and via The Body Shop's newsletter, according to a company representative. Promotion of the event was also done by Toronto-based Strategic Objectives, who advertised it in local media, like The Toronto Sun and Sweetspot.ca.
Bonnie MacDonald, general manager of The Body Shop Canada, tells MiC the target demo for the new line is, like the rest of the company's offerings, more about a lifestyle than a target age range.
"Our products are more about people who are like-minded with our values," she says. "We are interested in any woman from 16 to 60 and beyond."
MacDonald says the seemingly strange partnership with Virgin Mobile was formed based on the phone company polling its members on products they would like to hear more about and get exclusive deals with.
Andrew Bridge, director, brand and communications, Virgin Mobile, says the partnership is slated to last for one year, with members enjoying perks like complimentary makeup brushes from The Body Shop.