Chevy redefines itself
The brand launches its largest integrated campaign to introduce three new cars to the market.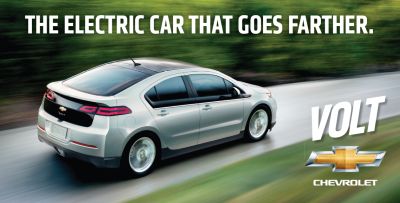 On the eve of its 100th anniversary this November, General Motors Canada brand Chevrolet wants Canadians to know it's not just about trucks.
That's why the brand has launched its largest ever integrated campaign to introduce the Sonic, Orlando and Volt to the Canadian market.
The campaign, which kicked off on Saturday with a prime-time and specialty channel TV buy, features media and creative from GM Canada's AOR, MacLaren McCann.
Mike Speranzini, director, advertising and communications, GM Canada, tells MiC that while the campaign overall is the biggest ever for the brand, it features specific creative for each new car.
The Sonic, aimed dead-on at 30-year-olds, features creative that's social, friendly and fun, he says.
"The creative for the Sonic feels younger. It is more urban, friendly and inclusive. It tries to convey that it is a car that is fun to drive."
Targeted at "modern family champions," the Orlando marks the first time Chevy has competed in the seven-seater compact car segment, says Speranzini.
The Volt is an electric car targeted at 40- to 50-year-olds with the means to make an investment in the environment.
"The creative for the Volt addresses the number one concern people have with electric cars, which is range anxiety," he says. "The Volt won't leave you stranded."
Featuring a TV buy across prime-time and specialty shows, including ads on every show on Shaw Media's History Television, the campaign's launch week is aimed at reaching as many people as possible, Speranzini says.
"By the time people are eating their Thanksgiving dinner next weekend, Canadians should have been exposed to Sonic, Orlando and Volt in a really big way," he says.
The campaign, which is being launched in seven languages, also includes OOH ads in cities like Toronto, Vancouver and Montreal, print ads in the 18 key markets across the country and a launch event today at Yonge-Dundas Square, which is being live streamed on the main page of YouTube and the Chevrolet Facebook page.
"The size of the campaign is aligned with our business objectives," he says. " We looked at what we needed to do to redefine the brand in the minds of Canadian consumers. We want to ensure Canadians think Chevrolet meets their everyday needs."
The global media account for General Motors is currently under review.