John St. wins big at AToMiC Awards
Stanfield's Guy at Home in his Underwear takes the top prize at the show that celebrates media, technology, innovation and content.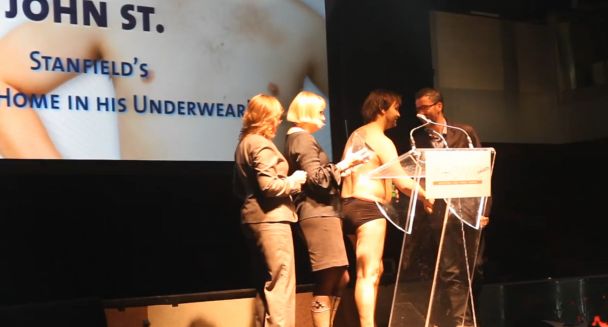 Last night marked the first-ever AToMiC Awards gala, celebrating the best in media, technology, innovation and content. The ceremony took place at the Guvernment in Toronto, and followed the AToMiC conference, where forward-thinking speakers from across North America enlightened the crowd.
The AToMiC awards advisory panel, led by media consultant Lauren Richards and Campbell's VP marketing Mark Childs, served at the first awards jury. They handed out Gold, Silver and Bronze awards in 12 categories: AToMiC Collaboration, AToMiC Idea, AToMiC ROI, AToMiC CSR, Best Brand Integration, Best Broadcast Engagement, Best Digital Engagement, Best Experiential Engagement, Best Print Engagement, Best Tech Breakthrough, Best Transmedia and Best Niche Targeting.
The big winner of the night was Toronto-based John St., which picked up the Grand Prix plus three Golds (AtoMiC Idea, Best Digital Engagement and AToMiC CSR) for Stanfield's Guy at Home in his Underwear. Now well-known thanks to plenty of buzz during and after the campaign, it followed a testicular cancer survivor by filming him 24/7 wearing nothing but Stanfield's underwear, all in an effort to raise awareness and money for the cause. The results were streamed online and the small Nova Scotian company became a household name.
Among the other big winners, Saatchi & Saatchi's @Random documentary project for the Tourette Syndrome Foundation of Canada garnered a Gold for AToMiC Collaboration, as well as a Bronze for AToMiC Idea. Leo Burnett's "Help Us, Help You" campaign for James Ready which gave on-the-spot deals via clever billboards, picked up two Golds – AToMiC Idea and AToMiC ROI. Doug & Serge's viral videos for the Worldwide Short Film Festival also won a Gold for AToMiC Idea, as well as a Silver for Best Broadcast Engagement.
Other Gold winners included the Canadian Tourism Commission's social media-based campaign by DDB in the Transmedia category; UM's Coca-Cola Covers contest with MuchMusic for Best Brand Integration; Starcom MediaVest Group's "It's Popnetic" effort for Corn Pops in the Tech Breakthrough category; Showcase's interactive online game for the show Endgame, created by Secret Location, won for Broadcast Engagement; MacLaren McCann's intern hunt for MasterCard won for Niche Targeting; James Ready and Leo Burnett snapped up another in Experiential Engagement for the Cap Recall program; and another for Leo – Ikea's moving day boxes in Montreal – won for Best Print Engagement.
To read more about all the winners, including Silver and Bronze, visit Strategyonline.ca.