MOCCA puts the pink on people
The Museum of Contemporary Canadian Art targets the masses with a campaign that adds some colour to the everyday.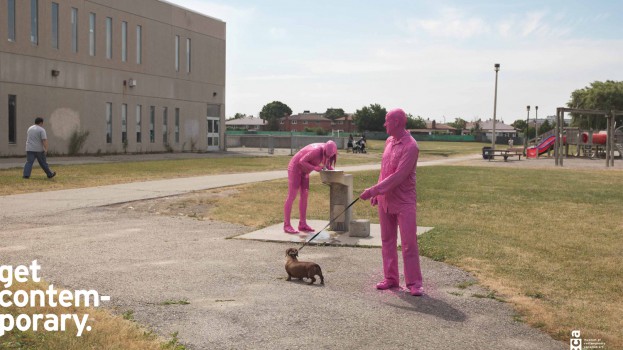 Contemporary art is anything but ordinary, but experiencing the work can be accessible to everyone. That's the premise behind a new campaign  encouraging people to visit the Toronto-based Museum of Contemporary Canadian Art (MOCCA).
People doing everyday things in urban settings, like walking the dog or trimming the backyard with the whipper-mower, are the focus of a series of three ads created by Cossette, with media done in-house by MOCCA. However, the scenes are anything but ordinary because the people are going about their business while drenched in hot pink paint.
The idea behind the creative, says Caitlin Keeley, copywriter, Cossette, is that the ordinary situations indicate MOCCA and the work it displays are accessible to everyone. The hot pink paint shows that it's a striking experience that will stick with you. Shot by award-winning photographer Mark Zibert, the ads, which feature the headline "Get contemporary," are appearing on bus shelters across the GTA.
"Bus shelters are the perfect placement for this advertising because they bring 'Get contemporary' to a street level where we want this message to be," says Josh Day, AD, Cossette." "Bus shelters also convey the notion that MOCCA is accessible to everyone."
"And spreading the posters across the GTA allows us to break out of the downtown core, thus exposing our message to people who otherwise wouldn't even know about MOCCA," adds Keeley.
A three-minute video featuring the pink people coming to life has also been created. MOCCA plans to seed it online as well as present it at Art Toronto 2011 and the Toronto International Art Fair.