Esso buys big: Media Monitors, Oct. 3 to 9
The gas co is tops in Toronto, with the Montreal Gazette entering the list at #1 in Montreal.
Esso jumped up one spot to reach the top of the Toronto radio ad markets, according to Media Monitors for the week of Oct. 3 to 9.
The gas company bought more than Sears, which also climbed one spot from last week to reach #2. Other big moves for the week in Toronto include BMW which jumped from 13 to three, Chrysler-Jeep-Dodge, which entered the list at #4, and RBC Royal Bank which leapt from 49 to 6 this week.
The Postmedia Network-owned Montreal Gazette entered the Montreal market at #1 for the week, taking down last week's big buyer, Sears.
Other moves of note in the Montreal market include Le SuperClub Videotron which jumped from 63 to three, Chevrolet which entered the list at #8, and The Home Depot which jumped onto the list in the #9 spot.
Toronto:
By brand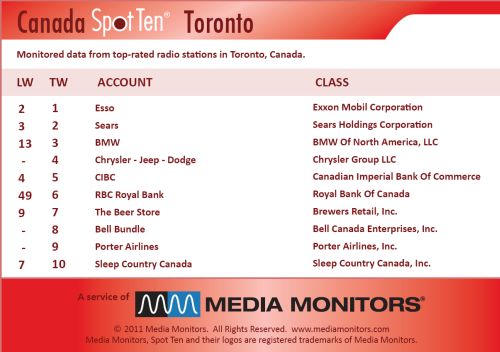 By category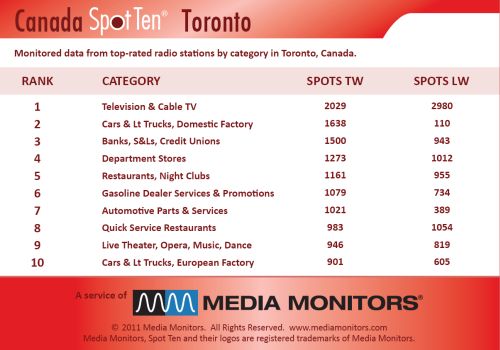 Montreal:
By brand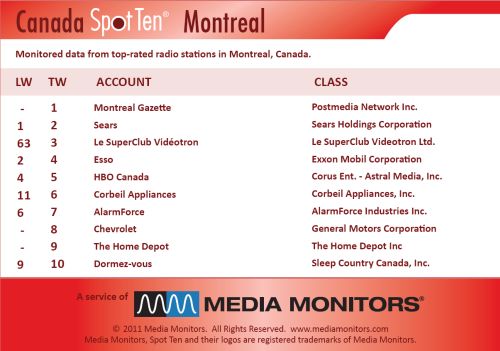 By category