SMG wins P&G Best Agency Partner
The media co took home the brand building award for its work with P&G at last night's awards ceremony.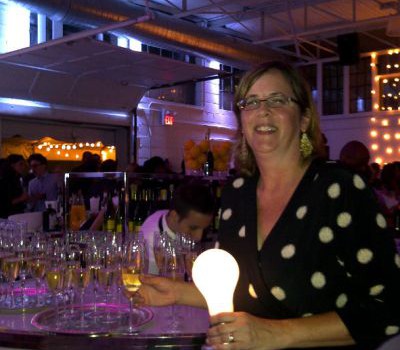 With a theme of "It's On," P&G's 2011 Brand Building Awards was a more hip (no tables) version of the annual celebration of teams, programs and partners.
Held at Airship 37 and MC'ed by comedian Steve Patterson (host of CBC's The Debaters), this show had arguably the best trophies of any awards celebrating big ideas, big glowing lightbulbs.
And this year, acknowledging the increased value of one of their media agency partners' innovation and big ideas, one of those lightbulbs went home with Christine Saunders, accepting the best agency nod for SMG along with Mike Owens.
The highest accolade of the evening, Best Canadian Brand Builder of the Year award, went to Christine Desjardine for the Oral Care success story. The Oral Care business turned in amazing growth in an increasingly crowded and complex category, powered by smart segmentation work, mega property launches – Pro Health and 3D White – and leveraging scale. The 3D White launch was a key coup, with innovative media, a P&G Scale Beauty push, and seemingly ubiquitous visibility at retail, yielding outstanding results that also exceeded the US business. The Oral Care team was also commended for its Shoppers Drug Mart centre store reinvention success.
The other two contenders for the Canadian Brand Builder of the Year title were Falguni Desai for her leadership on Cascade and Imtiaz Ahmed for Bounty.
Other winners of the P&G brand building awards are:
Best FMOT (first moment of truth): Reuben Fernandes for the Swiffer "Out of the Box" program at Zellers
Best Digital: Maria Shibaeva, who won for the P&G Digital Scale program
Best Scale: Ealeen Wong for the Brand Sampler program
Best Canadian Amplification of PI: Ashwin Garg for Clear Blue
Search & Reapply: Alex Glover for SDM "Have you tried this yet"
Best Commercial Innovation: Irena Kahn for Always "Made In Canada"
Best Holistic Communication: Chandra Colbear for Covergirl "Foolproof 5"
Best Brand Building Capability Award: Jenny Seiler
Rising Brand Builder of the Year Award: Maria Shibaeva
Mastery in Action Award: Tania Sirmakesyan
One Team, One Dream Award: Fabric Care