DailyXY refreshes itself
The redesigned advice site for men launches with RBC and features new ad and sponsorship opps.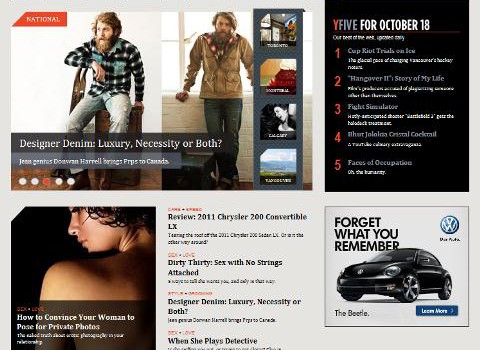 DailyXY, a Canadian site that is focused on being wholly local and useful to men's daily lives, has gone through an overhaul, and in its wake a series of new ad units and sponsorships opportunities have been added.
The site holds up to 5,000 pieces of content in categories including travel, culture, sports and health, as well as a female-written column on sex and love.
New features to the site, which is targeted at 25- to 45-year-old urban men with an average household income of $100,000, includes an updated and more interactive "Speed Trap" alerts tab, a navigation bar that locks when scrolling down the page as well as a new section featuring DailyXY's top five stories found on the web.
And all of the new features are up for sponsorship grabs, Peter Coish, publisher, DailyXY, tells MiC.
With the "Speed Trap" tab, readers can view a map of reported speed traps at intersections in cities including Toronto, Vancouver, Montreal and Calgary. Coish says that the site is offering sponsorship of the map tab to brands with a sense of humour. When the site launched the tab last year, it was promoted with attractive female street teams warning drivers on the roads of speed traps and no-turning left lanes, he says.
The new lock navigation bar mimics that of Facebook's dashboard bar, and the site is offering brands earlug ads which will be placed on the left and right side of the tab, much like what print newspapers traditionally offer, says Coish.
Sponsorship opportunities of the top five stories section, entitled "YFIVE" is also available for brands to sponsor, he says.
Starting next week, DailyXY will exclusively publish select pieces of content on its Facebook tab, and to access the articles, users must "like" the page. RBC will be the first brand to purchase the site's new advertising package, which includes ads on the social media tab as well as a homepage takeover on the blog, says Coish.
RBC will be holding a promotion that involves getting readers to submit blurbs on their financial objectives and reasons why they need help from the bank. Three entrants will be chosen and sent on a financial boot camp where DailyXY journalists will write a series on their progress and financial achievements.
DailyXY launched in 2006, reports an audience of 8,000 unique visitors daily according to Google Analytics and has seen an array of advertisers in the automotive, alcohol and fashion categories, but Coish believes that there is a place for consumer packaged goods that advertisers have not given enough attention to.
"It's amazing how much this segment is sometimes ignored by marketers," he says. "There are certain categories that we do well with but when we did a survey last year, we found out that over 70% of our readers are involved in the purchase decision for household cleaners."
"What is surprising to me is that media planning decisions rarely include sites that talk to men," he adds.
When asked why he believes there is a relatively small market of male-focused blogs on the web, Coish says that "it is a very specific market and these things live and die based on advertising revenue. Advertisers tend to spend a lot more on reaching women and really not enough on guys."